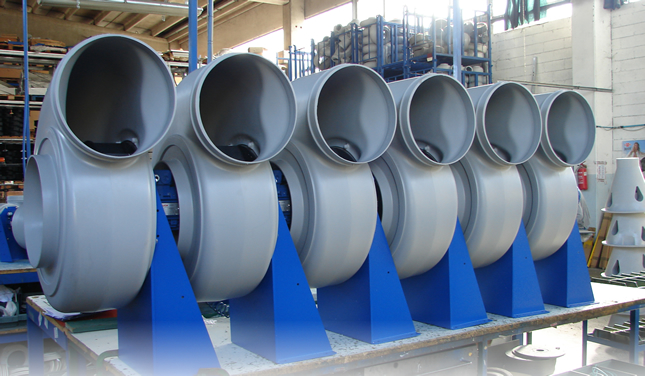 Founded as a family run business, today extended and effectively structured, Venplast is able to compete with outstanding results on an international scene.
Products
Venplast studies, designs and accomplishes a wide variety of industrial ventilators corrosion proof that satisfy a range of workload/pressure which varies from a minimum of 30 m3h/50Pa to a maximum of 140000 m3h/6000Pa, with which a long series of complementary accessories is combined. The application fields of Venplast ventilators cover a broad range of sectors: from chemistry and jewellery laboratories to galvanic and metal treatment systems, from petrochemical industry to environment purification systems from corrosive and dangerous fumes. Besides standard products, Venplast is able to personalise the request with accuracy and punctuality according to the customer's needs.
Commercial network
The success that Venplast is experiencing at national level and on foreign markets is also due to the presence of a dense network of partners and qualified sale representatives, who are able to offer the final customer a speedy and ongoing post-sale customer care service. The presence in loco of these representatives ensures quick services at competitive rates.