Thanks to well-advanced technical equipment, to the care for the management of company processes, and to the respect of the market regulating norms, Venplast possesses compliance certificates with norm UNI EN ISO 9001:2015 for quality control, to Directive 94/9/CE (ATEX) for suitability of operation in potentially explosive environments.

Certifications list
UNI ISO 9001:2015
Quality control Certificate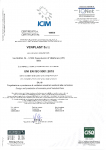 Since 2001 Venplast has beeing adopting a system of quality control of the products, in compliance with the relevant norms in force.

ISO / IQNET Certificate

ATEX
Certificate for areas potentially at risk of explosion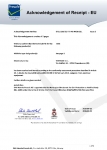 Venplast has had certification according to the directive 2014/34/EU concerning regulation of ventilators for use in areas at risk of explosion.

ATEX Certificate PDF